chapter 41 - France 2 UK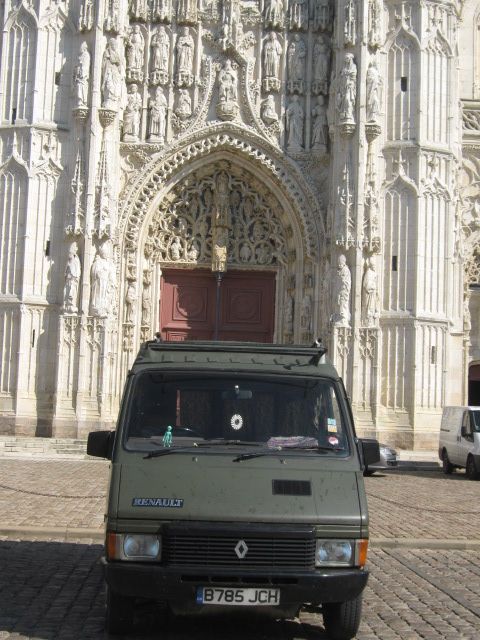 Dear Diary....
Now what I need... is to go to the
Church
and revel all my sins... mheeeee :)
After the hard work in France , Mum and Dad have decided to come back to UK in a very low motion and appreciating the views.
After they left the Pommes, they drove to a
camping park)
near by and they had a rest while looked at the web to see how the superficial world is going ;)
This camping park was nice and had a big lake PLUS they had internet code ... yuuupppyy !!! It was just outside of Pompadour in Camping "Les Etoiles",
Mum and Dad stayed for one night and in the morning ... off we go ;)
It was a long drive so they stopped later in the day in a very friendly
French Village
called "La Blank".
Of course they didn't miss the chance to make a tour around the village and get to have dinner in the garden wood bench hi hi hi ... was very fun (there was an old man who kept following mum and dad insisting to tell us a story about something they really couldn't understand... but EY... he had a very nice bunch of Cats around him :) blessssss !!
They found a small castle and they walked around then they went to sleep very early.
Next morning ..off we go again.. (always on the go.. e ne ?)
Soon they stopped in other
French Village
for a break and some food ..
This time, dad parked me in a place which had a sign say: "Place de heros" (place of the hero's) and on the back of the sign, was a cemetery of solders from the
second world war
!!
I really didn't understand why Dad was laugh so much... was no fun at all !
But ey... Do we need to die for our country to be recognised as an hero ?
Questions !!
After a meal in a little pizza caffe, we got back to the road and drive till very late.
No way they could find a camping park !
Not because was very essential but mum and dad was in the road driving for 2 days and they really wanted a shower but there was no camping park for many many miles... until finally , they found a very strange camping park.
This park even had
cameras
around but didn't have hot water of any conditions PLUS, looked like there were only residents. Sort of a long term camping park.
Mum and dad did try to found someone to book in but it was quite all around and didnt see no one around... cool, so we stayed for the night, and didnt find no one in the morning either..so that was a freebee night :) There was not much going on in that place just big pitches , but no electrics.. no hot shower.. no pay.
Thats it... sleep !
After a good sleep, we left because it was till a long way to drive...drive..drive..We made few more stops and got to the
Ferry
long before the departing time, so we still had time there for a little rest.
Luckily, when we got back to UK, there was a few very nice sunny days. That made it a bit easier to climates back with
English weather
:):)
and then...
Home Sweet home :o)
Do you think is all over ??
Just turn the page and you will see some more adventures of
Freeka... The Camper vrrrruuuumm :)
By the way....
INSERT COIN
... Please :)